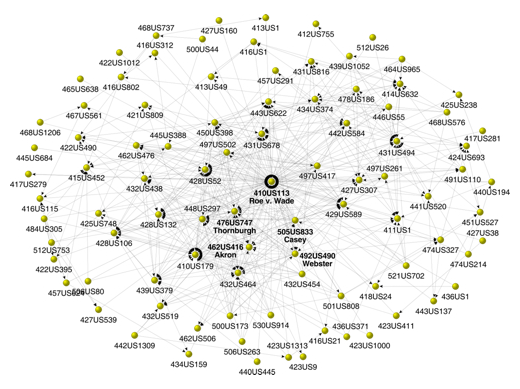 In my conversations with judicial politics scholars, many lament how many of our existing approaches tend to ignore opinion content.  For those interested in embedding opinion content into existing theories of judicial decision making … consider Yonatan Lupu & James Fowler's paper recently posted to the SSRN.  
The authors present a strategic model of judicial bargaining over opinion content.  They note … "we find that the Court generates opinions that are better grounded in law when more justices write concurring opinions."  To generate the specification for "grounding in law" the authors use Kleinberg's Hubs and Authorities Algorithm calculated at the time the opinion was authored. The Strategic Content Paper is available here. 
The visual above is drawn from a related Fowler project located here.  Another very worthwhile paper authored by Fowler, Johnson, Spriggs, Jeon & Wahlbeck is located here.