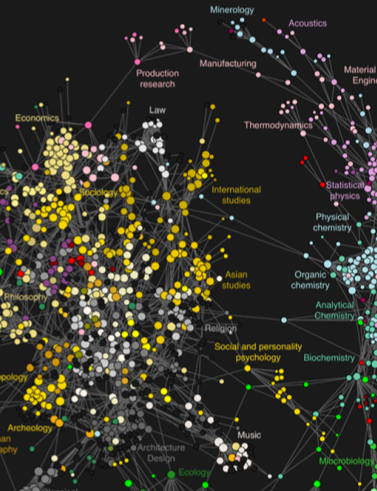 This article offers a very interesting insight into the structure of academic disciplines. Using a variety of sources, the authors collected nearly 1 billion interactions from scholarly web portals including Thomson Scientific, Elsevier, JSTOR, etc.   
Residing between Economics, Sociology and International Studies, notice the location for legal studies in the upper center portion of this screen print.
The Full Size visualization as well as relevant analytics are  available within the paper.  Among other things, the approach undertaken by Johan Bollen, Herbert Van de Sompel, Aric Hagberg, Luis Bettencourt, Ryan Chute, Marko A. Rodriguez & Lyudmila Balakireva provides an alternative view of the current structure of the academic disciplines from that offered in existing bibliometric studies.