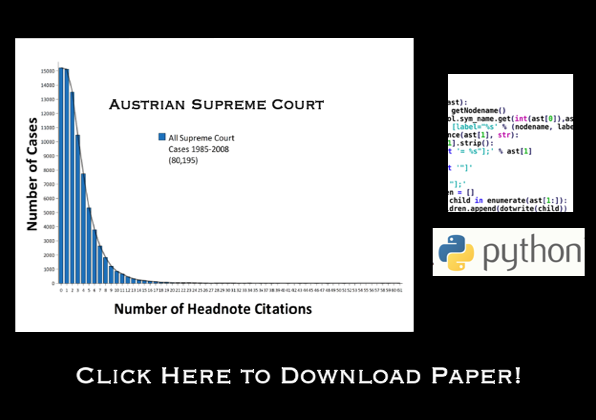 Anton Geist has posted Using Citation Analysis Techniques for Computer-Assisted Legal Research in Continental Jurisdictions to the SSRN.  While this is certainly longer than most papers, we believe it offers a good review of the broader information retrieval and law literature.  In addition, it offers some empirical insight into citation patterns within continental jurisdictions. The findings in this paper are similar to those shown in important papers by Thomas Smith in The Web of the Law and by David Post & Michael Eisen in How Long is the Coastline of Law? Thoughts on the Fractal Nature of Legal Systems. 
In our view, the next step for this research is to determine whether the pattern does indeed follow a power law distribution.  Specifically, there exists a Maximum Likelihood based test developed in the applied physics paper Power-law Distributions in Empirical Data by Aaron Clauset, Cosma Shalizi and Mark Newman which can help adjudicate whether the detected pattern represents a highly skewed distribution or is indeed a power law.
Either way, we are excited by this paper as we believe comparative research is absolutely critical to broader theory development.