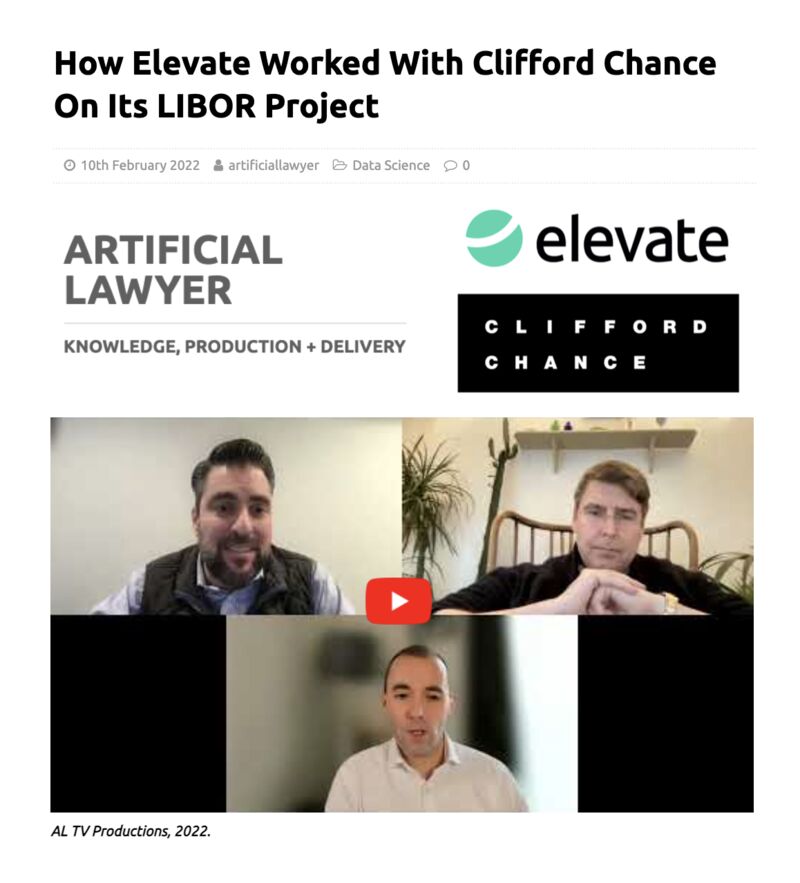 It was great to sit down and spend time with Richard Tromans (Artificial Lawyer) and Anthony Vigneron (Clifford Chance) to discuss our work on the LIBOR Transition challenge.  
From world class legal expertise, to a leading data science / legal innovation team – Clifford Chance is one of the true market leaders! It was great to collaborate on bringing our AI / NLP toolkit and data science expertise to this complex problem space.
Many of my current and former Elevate / LexPredict colleagues contributed to the effort including — Eric Detterman, Michael Bommarito, Robert Sancrainte, Charlie Beck, Andy Ninh, Warren E. Agin, Beth Lambdin, Kelly Marsh, Andrew Parsons, Julian Cagadas and many others.   
Congrats to Anthony Vigneron, Carissa Schiller and the broader team at Clifford Chance who led this Award Winning Project ( The Lawyer European Awards 2021 )
Go here to access Artificial Lawyer TV Video !

For broader information on LIBOR and the associated transitional issues — please see this LIBOR Transition White Paper.