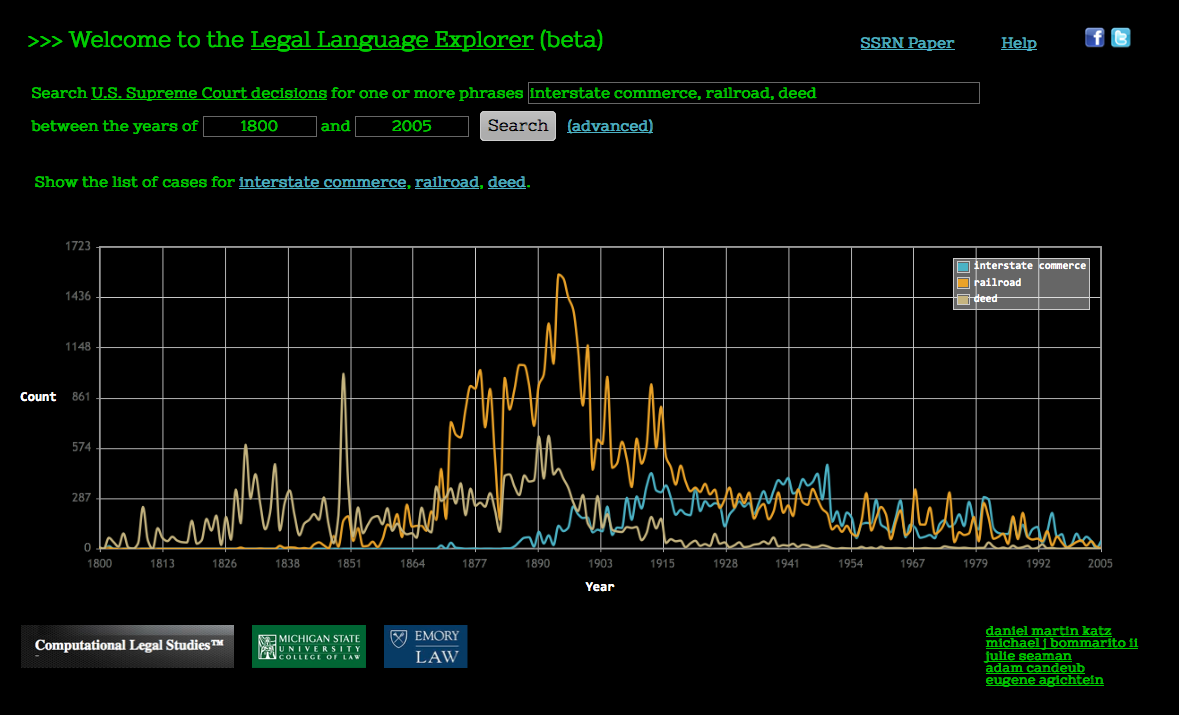 In partnership with Michigan State University College of Law and Emory Law, today we announce the Beta Pre-Release of a New Web Interface – LegalLanguageExplorer.com. We are just getting started here with this project and anticipate many features that will be rolling out to you in the near future. Please feel free to send us your feedback / comments.

---
---
---
BASIC FEATURES:
Instant Return of a Time Series Plot for One or More Comma Separated Phrases.  The default search is currently interstate commerce, railroad, deed (with plots for each of the term displayed simultaneously).
Feel free to test out ANY phrase of Up to Four Words in length.
Here are just a few of our favorites:
Clear and Present Danger
Habeas Corpus
Custodial Interrogation
Due Process
Unconstitutional
Property
Privacy
---
---
---
SCOPE OF COVERAGE:
In the current version, we are offering results for EVERY decision of the United States Supreme Court (1791-2005).  We plan to soon expand to other corpora including the U.S. Court of Appeals, etc.
---
---
---
FULL TEXT CASE ACCESS:
Each of the Phrases you search will be highlighted in Blue.  If you click on these highlighted phrases you will be taken to the full list of United States Supreme Court decisions that employ this phrase:

---
---
---
ADVANCED FEATURES:
Check out the advanced features including normalization and alternative graphing tools.

---
---
---
PAPER:
Daniel Martin Katz, Michael J. Bommarito II, Julie Seaman, Adam Candeub & Eugene Agichtein, Legal N-Grams? A Simple Approach to Track the 'Evolution' of Legal Language in Proceedings of Jurix: The 24th International Conference on Legal Knowledge and Information Systems (Vienna 2011) available at  http://papers.ssrn.com/sol3/papers.cfm?abstract_id=1971953
---
---
---
PRESENTATION & HELPFUL TUTORIAL:
Click on the Image Below and You Will Be Directed to our Presentation at 24th International Conference on Legal Knowledge and Information Systems ( Jurix 2011 – Vienna )
This offers some motivation for the project as well as a Brief Slide Based Tutorial Designed to Highlight Various Functions Available on the Site.
---
---
---
TECHNICAL IMPLEMENTATION:
Michael J. Bommarito, Building Legal Language Explorer: Interactivity and Drill-Down, noSQL and SQL available at http://www.michaelbommarito.com/blog/2011/12/16/building-legal-language-explorer-interactivity-and-drill-down-nosql-and-sql/
---
---
---