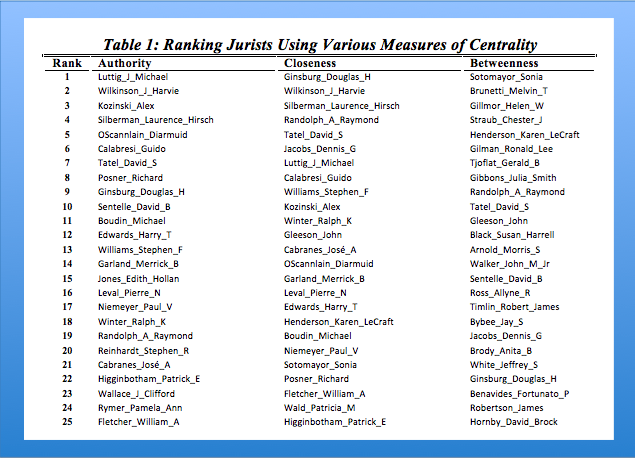 Above are some graph statistics from our paper Hustle and Flow: A Social Network Analysis of the American Federal Judiciary.  The paper measures the aggregated window of 1995-2005. These, of course, are not the only measures of centrality but they are commonly used in the network science literature. If you are interested — click through to the paper for a description of how these measures are calculated.  
We believe these and other elements of the paper offer a good cut on the question of social prestige within the American Federal Judiciary. For example, in the paper we offer a graph visualization where Judge now Justice Alito as well as Judge turned Attorney General Michael Mukasey occupy an extremely central social position (just outside of the Top 25).  We think this is useful because their social prestige is measured at a time period prior to their respective nominations. With appropriate control variables for the respective office in question … perhaps we might have been able to predict their nomination?
For purposes of the current Supreme Court opening and conditioned on the selection of a lower court justice with "blue team" credentials, we believe these graph statistics indicate Judge Sonia Sotomayor, Judge Merrick Garland , Judge William Fletcher & Judge David Tatel all occupy high levels of social prestige among their fellow judges and justices. Debate regarding qualifications of various individuals is likely to continue. While certainly not dispositive, we thought it appropriate to offer some social scientific evidence on the question.  
President Obama might go outside the tradtional Federal Court of Appeals judge on this round. For example, Governor Jennifer Granholm, Solicitor General Elena Kagan and Homeland Security Secretary Janet Napolitano appear to be on the short list. However, keep these names in mind as this is probably not President Obama's last nomination to the high court.