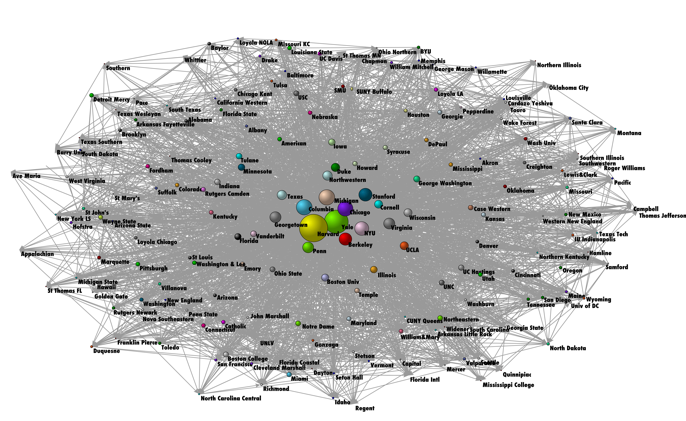 Last month, my colleagues and I posted Reproduction of Hierarchy? A Social Network Analysis of the American Law Professoriate to the SSRN.  We have been quite happy with the initial response to the article.  It has been posted on a number of blogs including ELS Blog, Tax Prof Blog, Legal Theory Blog, US News and World Report Blog as well as several others. 
To develop the network, our paper uses an approach first developed in the network science literature by Fowler, Grofman & Masuoka. The network visualized above relies upon mapping the institution where an individual received their primary legal socialization to the institution where that individual acts to socialize the next generation. The example below demonstrates the move from our data set to the full graph of 184 Institutions and 7,200+ Professors.  In the full graph, the institutions are sized by the number of inbound connections.  Harvard Law School has the largest number of placements and is the largest node contained in the graph.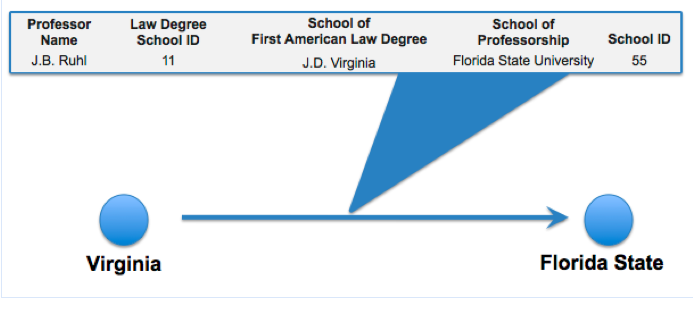 This is first of a multipart series of posts regarding the ideas contained in the paper.  In subsequent posts, I hope to comment on a variety of matters including how we use the above network to computationally model spread of intellectual and doctrinal paradigms. To preview, we use the above network architecture in a Reed-Frost style social epidemiological model.