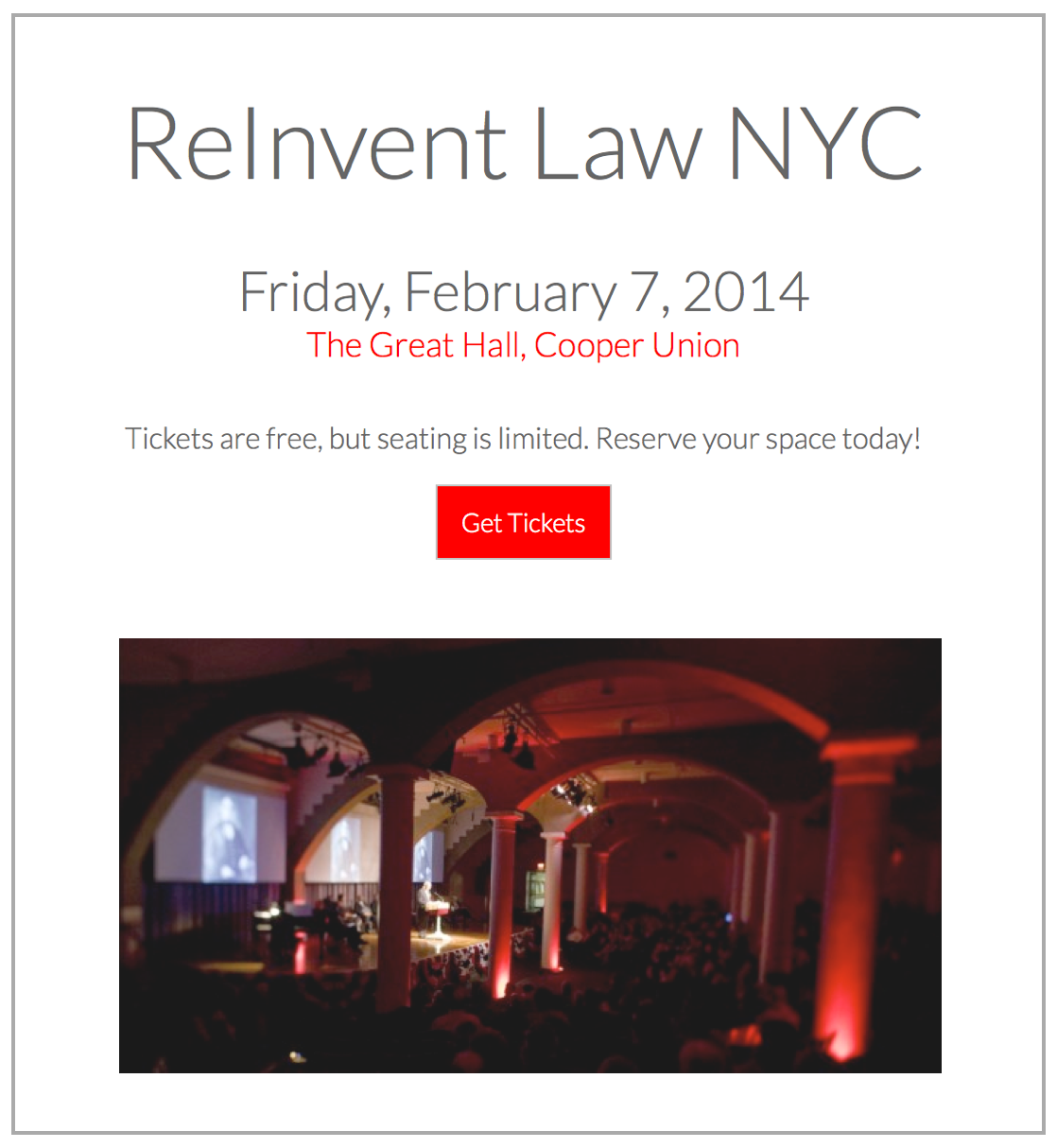 You are invited to join us for ReInventLaw NYC — to be held in New York City on February 7, 2014 at the Cooper Union in Manhattan.
This high energy completely *free* event that is open to anyone interested in the future of the law including but not limited to law students, practicing lawyers, technologists, venture capitalists, data scientists, legal hackers, government officials, law professors, legal operations professionals, legal entrepreneurs, etc.
The full list of the 40+ Speakers is now live!

In the meantime, please sign up for a free ticket today by clicking here.  When they are gone, they are gone (and they are almost gone)!
The event follows immediately on the heels of LegalTech NYC (which is a 12,000+ person trade show attended by the leading technologists in the legal industry).  This  will make it easy for LegalTechNYC goers to attend.
We are very excited to be able to secure this location for this event – the Cooper Union Great Hall in Manhattan.  The Great Hall in among the most important venues in American History as it is the site of Abraham Lincoln original abolitionist speech delivered in this very venue – February 27, 1860.
By way of background, we have run previous sold out events in Silicon Valley, London and Dubai.   For recent examples please see here:
http://reinventlawsiliconvalley.com/
http://reinventlawlondon.com/
Check out some of the videos from prior events here:
http://reinventlawchannel.com/
You can learn more about the work of the #ReInventLaw lab here:
http://reinventlaw.com/
Sign up for your free ticket today and we will look forward to seeing you Friday February 7, 2014 @9:00am.