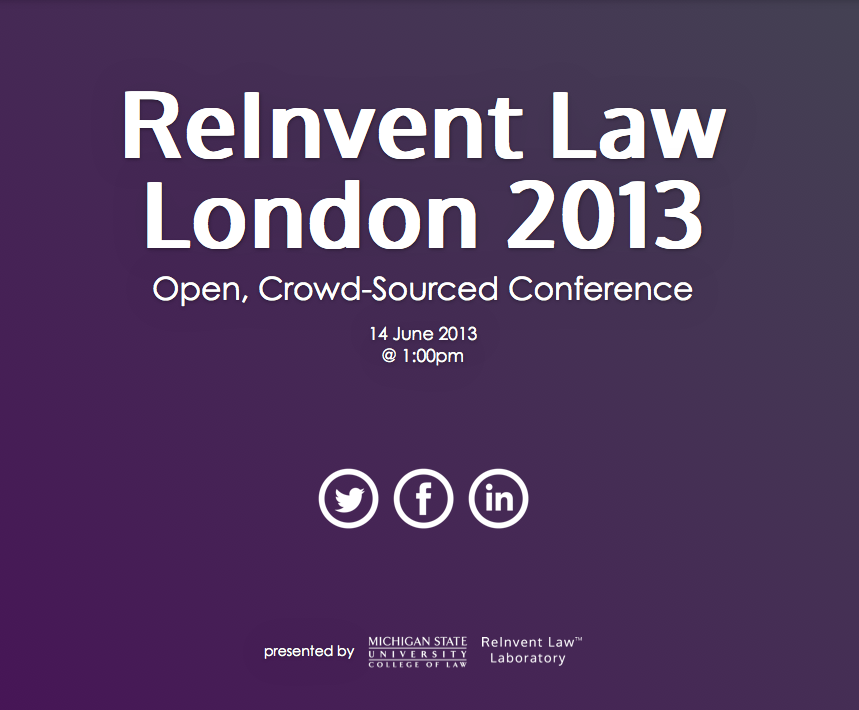 #ReInvent Law London 2013 will be an open, crowd-sourced conference! Talks will be submitted by the public and then those proposals will be voted upon by the public.  Anyone can pitch a topic, and everyone can vote.
Here are the rules:
1.  Submit your 300-word or 30-second-YouTube-video pitch at www.ReInventLawLondon.com between now and midnight on April 5, 2013.
2.  Vote for your favorite pitch when the voting window opens in early April.  One person, one vote—but feel free to use Twitter, Facebook and LinkedIn to encourage colleagues, friends, family and more to vote for your pitch.
3.  Talks must relate to some aspect of law + technology + innovation + entrepreneurship.  This is about big ideas—no sales pitches or product pushing.
4.  Winners will have up to 10 minutes to speak, and will then respond to dynamic, real-time, audience-driven Q&A.
5.  You can also sign up here for a FREE ticket to witness ReInvent Law London, June 14, 2013.  Each of our previous events have sold out – so sign up today!
#ReInventLaw London 2013 is part of Michigan State University College of Law's 21st Century Law Practice Summer Program.
Learn more about our laboratory and its 4 pillars —  { Law + Tech + Design + Delivery }
@ www.ReInventLaw.com